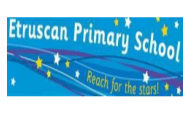 SCHOOL REMAINS OPEN
FOR
VULNERABLE CHILDREN
AND
CHILDREN OF KEY
WORKERS ONLY.
All other children will return to school on Monday 8th March. You will receive a letter with further information on Wednesday 3rd March
Open letter from the Secretary of State for Education to parents
What parents and carers need to know about early years providers, schools and colleges
Parents and carers of children attending out-of-school settings during the coronavirus (COVID-19) outbreak
Current school opening and closing times are as below-
Children to come into school between 8.30 and 8.45am.
Nursery and Reception children to leave school at 2.30pm
Year 1 children to leave school at 2.35pm
Year 2 children to leave school at 2.40pm
Years 3, 4, 5 and 6 to leave school at 2.45pm.
Welcome
Executive Headteacher's Welcome Statement
Welcome to Etruscan Primary's website. Our website is intended to let you know more about the life and work of our school. Our mission statement, 'Reach for the Stars' is at the heart of all we do and is underpinned by our School Values of Respect, Enjoyment, Achievement, Collaboration and Honesty.
We are an inclusive and nurturing school where pupils feel safe, happy, secure and ready to learn to achieve their very best. We recognise all pupils as individuals and their needs come first in all we do. We believe that pupils achieve their very best when school and home work in partnership.
On 1st June 2020 we joined the Orchard Community Trust and work closely with a number of schools including: Abbey Hulton Primary School, St Mark's CE Primary School, Forest Park Primary School, Kemball School, Oakhill Primary School and Watermill School. As the Executive Headteacher of both Etruscan Primary School and St Mark's CE Primary School, we share one Local Governing Body.
We hope that you enjoy your visit to our website and that you find the information you are looking for. Please feel free to contact the school directly with any queries you may have.
Mrs Michelle Johnstone
Executive Headteacher