Welcome to Year 6 class page
Our School Council representatives are Ada, Daniyal, Fatima and Shayan.
Year 6 are working hard to make sure they are ready for their Key Stage 2 SATs. Remember you can practice your times tables on Times Table Rock Stars, read daily including using Bug Club and complete homework each week. You may find the following websites helpful.
https://www.bbc.co.uk/bitesize/levels/zbr9wmn
http://www.icteachers.co.uk/children/children_sats.htm
http://primaryhomeworkhelp.co.uk/
Here you can find out about some of the exciting things we have been learning about.
This half term we will be learning about...
Rivers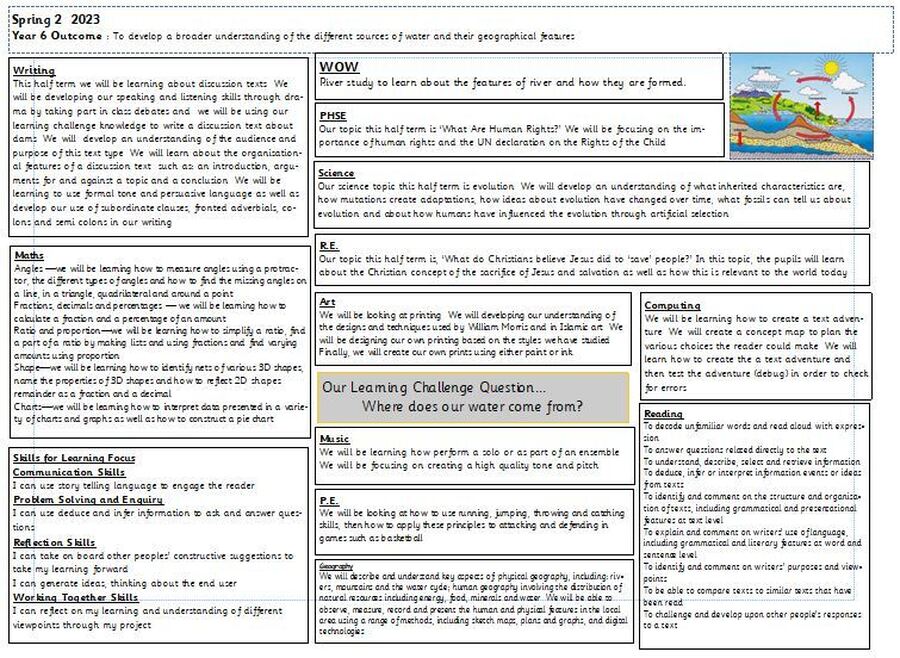 Local History Week
In Year 6, during local history week, we learnt about why the local area is called Etruria and why our school is named Etruscan Primary School.
We started by reflecting on what we had learnt about ancient civilisations in previous years. We could remember that In Year 4 we had studied the achievements of the Ancient Egyptians. In Year 5 we had studied Ancient Greek life, their achievements and their influence on the western world and in Year 6 we had studied the achievements of the Ancient Maya.
We studied a range of Etruscan artefacts. We worked in groups and moved around the room analysing and interpreting the artefacts. We wrote down what we thought each artefact was and what it may have been used for.
Next, we compared sources of information about politics in ancient Etruria and politics in ancient Greece, in addition we applied what we had learnt about ancient Greece in Year 5. We learnt that the Etruscans had once central government whereas the ancient Greeks had separate city-states.
For our final lesson on local history, we learnt about the Etruscan religion and their funerary practices. In groups, we were challenged to study a picture of an Etruscan tomb and decide what we could infer about how the Etruscans treated their dead.
The Mayans
As part of our introduction to the question 'Who were the Mayans and what have we learnt from them?', we had a visit from a Mayan warrior called Big Nose.
Firstly, we learnt about the Mayan number system and how to count to ten after which we had the chance to wear different Mayan clothing, learn about the importance of different types of ritual sacrifice and tasted chocolate made in the Ancient Mayan style.
Next, we talked about a range of Mayan artefacts. We discussed what the artefacts were made from and what they might have been used for. The artefacts included a chukhh, which was a water bottle made from a vegetable such as a squash; a pair of whistles used in ceremonies and rituals; a set of bowls made from coconuts, which were used for holding food and a whisk that was used to make the most important of Mayan drink hot chocolate. After discussing the different artefacts, we then had chance to look at them more closely and sketch them.
As part of our introduction to the question 'Why did World War II last six years?', we had a visit from George, who served as both an air raid warden and a soldier.
To start the Wow Day we learnt about the blitz and the various air raid precautions Britain employed to avoid being bombed. We had the opportunity to wear a range of clothing worn by different services during the blitz. After learning about how Britain tried to defend itself during the blitz, we had the chance to hold and examine parts of incendiary bombs as well as parts of the V1 and V2 rockets. Next, we had the chance to learn about rationing, when we handled ration books; we wore gas masks and studied the types of items evacuees were permitted to take with them when they were evacuated.
During the second phase of our Wow Day, we had the chance to play a variety of children's games including marbles, a card game designed for evacuees and shove penny. We also practised using a World War II stretcher and followed the first aid instructions to bandage someone who had been injured. Finally, we learnt about the importance of stirrup pumps used by everyday citizens to put out fires. We had the chance to use stirrup pumps and pretend that we were putting out incendiary bombs.
In the third part of the Wow Day, George had been conscripted and was no longer an air raid warden but now an active soldier. We learnt about the training that soldiers experienced, the equipment that they carried and some of the weapons that both British and German soldiers used. Later on, we had the chance to practice bayonet drills and throw replica grenades as well as handle a replica luger pistol.
Theatre Visit
On Tuesday 6th December, Year 6 visited the New Vic Theatre to watch 'Alice in Wonderland'.
Whilst they were there the children were able to develop their imagination and knowledge of storytelling through the Arts as this wonderful literary classic was brought to life on stage. During the performance, the children learned how actors interact with each other as well as with the audience in a way which enables them to become immersed into the world of adventure.
The children thoroughly enjoyed the performance as they journeyed with Alice as she followed the White Rabbit into a curiously enchanting new world, filled with even more curious characters. It was a morning filled with fun, laughter and lots of magical moments - a real festive treat!