Reward Programmes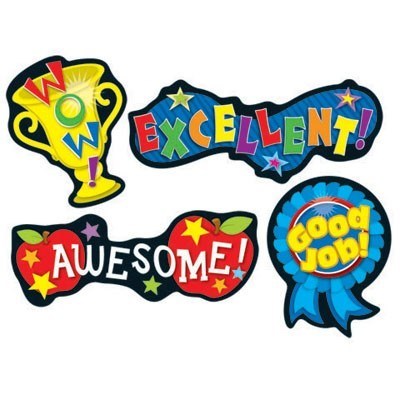 Throughout each week the children can earn a variety of awards. These include the following:
Weekly Class Award
Each week one child from each class is chosen by the class teacher to receive a 'star of the week' certificate which is presented in awards assembly on a Friday. This certificate is awarded for a variety of reasons including effort, achievement, progress, homework or other contributions to their class or the school.
Star Reader
If the children read every day with a parent/carer, or if the child has shown an improved attitude towards reading, then they are entered into a weekly raffle and have the chance of winning a new book. There is a selection of fiction and non-fiction books for the children to choose from. This initiative has had a positive impact and has increased the number of children who read daily at home.
Star Writer
A Star Writer is chosen each half-term from each class. The winner's work is displayed in the hall with the winner also receiving a special pen.
Smiley Prizes
'Smiley' tokens are given out by staff to children for acts of good citizenship, such as picking up litter, helping somebody or being polite. The children put their 'smilies' into a box. Two winners are drawn out in each awards assembly, each winning a small prize which are donated by staff.
Friendship Awards
The Friendship and Playground Buddies award four certificates each week to children they have seen playing nicely at playtime and lunchtime. They present these certificates in the awards assembly.
Team Points
Each child from Year1 to Year6 are in one of four colour 'houses', red, green, yellow or blue. Children can earn team points for many different reasons for example for doing homework, for being kind, for doing good work or for having a good attitude to school and learning. These points are collated by the team captains each week and the team with the most points gets a star on the chart. The winning team at the end of each term is the team with the most stars. This team then has a treat, which is decided by team members.
Attendance Awards
We have lots of ways of encouraging and rewarding good attendance and punctuality. Please see our Attendance Policy for more details. Whole school and individual class attendance is reported and displayed on the attendance monitor each week in the awards assembly.
Kindness Award
Everybody in the school community is expected to be kind to each other but there is a special 'kindness' award in each class, each week in the awards assembly for children who have been especially kind.