Welcome to Nursery
Welcome to Nursery at Etruscan Primary School, this page contains information on all the exciting things we get up to across the school year.
We believe that it is important to provide an early year's education that aims to meet the individual needs of every child in our care, both educationally and pastorally. We offer children rich experiences in a variety of situations, in a happy, safe and secure environment that invites them to engage fully in their learning. We support development, care and learning needs through play following the Early Years Foundation Stage Curriculum, also known as the EYFS.
At Etruscan Primary School, learning and development in Nursery and Reception takes place through a wide range of adult-directed and child-initiated activities. Learning through play and first-hand practical experiences provide children with the opportunity to develop in all seven areas of learning. We currently provide a 2-year rolling program of topics for Nursery and Reception.
The EYFS focuses on seven areas of learning, these are:
Personal, Social & Emotional Development
Communication & Language
Physical Development
Literacy Development
Expressive, Arts & Design
Mathematics
Understanding the World
We invite you to look at the different activities and fun experiences we share in nursery...
On Friday 28th April 2023, we started the first of our 'Fine Motor Friday' sessions where all children in nursery participate in a range of different activities to get our fingers moving!
Every Friday morning, the children are split into 2 groups and each group takes it in turns to go to the hall for PE and take part in activities to encourage and build fine motor skills.
Fine motor skills are the ability to make movements using the small muscles in our hands and wrists that will help your child to hold a pen or pencil correctly, to form marks and then letter shapes needed for writing.
Children are learning to:
Use one-handed tools and equipment, for example, making snips in paper with scissors.
Use a comfortable grip with good control when holding pens and pencils.
Show a preference for a dominant hand.
Be increasingly independent as they get dressed and undressed, for example, putting coats on and doing up zips.
Some of these activities include messy play. Come and have a look...
This week we have been learning about the different ways we can move our bodies!
We used large-muscle movements during our Squiggle Whilst You Wiggle session, using our arms, hands and fingers to make marks on paper. We then used those same movements with our feet and we explored the differences between the marks our fingers and toes could make! Children also practiced taking off and putting on their shoes and socks, as part of their physical development.
Come and have a look...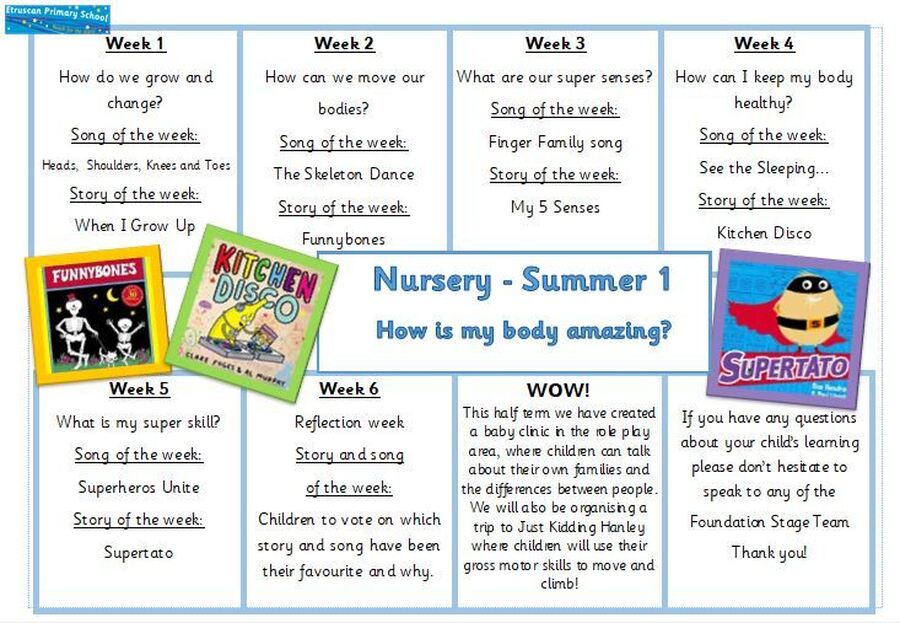 How does it grow?
This half term, children have been learning about the key features of the life cycle of plants and animals. Reception had an amazing delivery of some chicken eggs and nursery have been observing how a chicken starts its life. This week, the chicks came to visit nursery and the children have loved watching how the chicks move and grow! Take a look at...
Modern Foreign Languages: Spanish Launch Day!
Today in nursery, children came to school in the colours of the Spanish flag, red and yellow. This morning, we have been learning how to say hello and thank you in Spanish, "Hola" and "Gracias". We have also been tasting some traditional Spanish food, such as a Spanish omelette, salsa, tortillas and rice.
Local History Week
This year for local history week, nursery learnt about the local pottery industry, focusing on Emma Bridgewater patterns. Children used all their senses in hands-on exploration of natural materials, such as clay and we discussed what we could see in the factory, and artefacts from the shop. The children loved all the spotty cups, plates and bowls, so we used different tools to replicate the spots in the wet clay. It was very sticky! The next day, children talked about the differences between materials and changes they noticed, as the clay had hardened.
Chinese New Year
Today, children in nursery found out about how Chinese New Year is celebrated in Chine, the UK and across the world. We tasted different foods, such as spring rolls, prawn crackers and made sweet and sour sauce. Take a look at some of the activities the children have enjoyed taking part in.