Orchard Community Trust

Etruscan Primary School is a member of the Orchard Community Trust.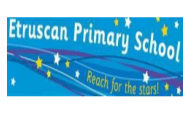 Orchard Community Trust
Genesis Centre,
North Staffordshire Business Park, Innovation Way,
Stoke on Trent,
ST6 4BF
Telephone number: 01782 883788

Email: info@orchardct.org.uk
Website: www.orchardct.org.uk
Registered in England and Wales. Company Number 11620282.
The following information is available on the Orchard Community Trust website:
OCT Vision Statement
OCT MAT Structure
Annual report
Annual audited accounts
Memorandum of Association
Articles of Association
Names and roles of charity trustees and members
The following schools are also members of the Orchard Community Trust. Click the badges below to take you to their school websites.